FDNY Incident Management Team Rejoins Hurricane Sandy support of life rescue mission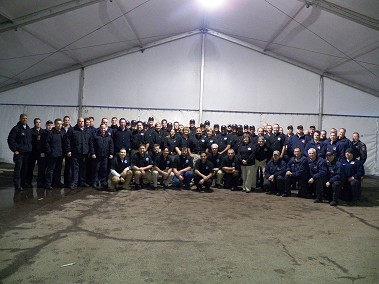 The FDNY and Lone Star State IMTs. Photo courtesy of April Saginor, Lone Star State IMT Public Information Officer.
The FDNY's Incident Management Team (IMT), whose members oversaw the Hurricane Sandy response during and after the disaster, took back coordinating operations in mid-January. They transitioned management from the Texas Lone Star State IMT, who have been managing the aftermath of the disaster since the end of 2012.
The FDNY's IMT coordinated FDNY operations for the first two weeks of the actual storm. They also managed operations for approximately six weeks after Hurricane Sandy hit, in conjuction with the City's Office of Emergency Management and the Mayor's office. The Lone Star State IMT was brought in to continue Hurricane Sandy support of life safety rescue mission.
The IMT will manage the Support Residents in their Home program.