FDNY Swears in 318 to the Fire Academy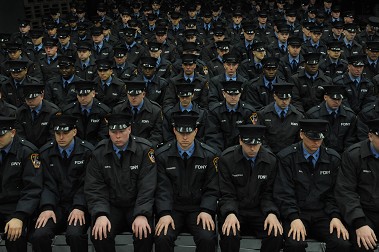 The probationary firefighters at the swearing in ceremony.
The FDNY marked many milestones on Jan. 15, as 318 probationary firefighters were sworn in at the Fire Academy. Most notably, this was the first class that has entered the Academy since the summer of 2008, and it is the most diverse class in FDNY history.
"It's mornings like this – when I look out at young men and women who are bravely committing themselves to the protection of our city – that I feel the most optimistic about New York's future," Mayor Michael Bloomberg said.
The class, which is made up entirely of FDNY paramedics and EMTs who took the promotional exam, will spend 18 weeks at the Academy on Randalls Island. They already have a combined 1,500 years of experience at the FDNY.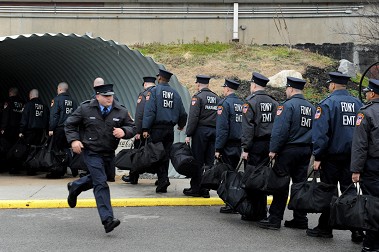 The probationary firefighters begin their 18 weeks of training at the Academy.
"The next 18 weeks will be the most difficult of your life and will push you like never before," Fire Commissioner Salvatore Cassano said. "But when firefighters come here to drill and see you outside running, training, learning…it reminds them all of what they went through. It reminds every single one of us of the hard work it took to earn the right to call ourselves New York City firefighters."
The 318 probationary firefighters were hailed as the most diverse class in FDNY history, with 42 percent of the members describing themselves as Latino, African American or Asian. There also are six women in the class.
"There's always a buzz of excitement in the Department when a new proby class enters the Academy," Chief of Department Edward Kilduff said. "While you're here, you'll need to prove something to the Department and yourselves. But you clearly bring something to the table, and you'll make us a stronger team … We're a better Department today than we were last week."