EMS Station 13 Opened in Manhattan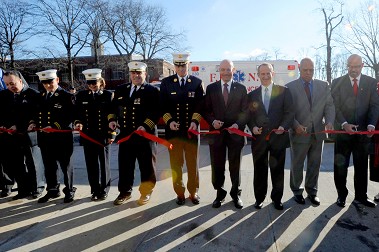 FDNY members cut a ribbon to officially open Station 13.
The FDNY officially opened EMS Station 13 on Jan. 7, which will serve Washington Heights and the surrounding communities.
"Now I know at first it may seem like a simple ribbon cutting ceremony to open a new facility, but this is really the culmination of years of effort by so many in this Department," Fire Commissioner Salvatore Cassano said. "And today, I'm proud to say this community is safer and better off because of this new station behind me, and because of the caliber of the people who call it home."
The new station is 3,136 square feet and contains a supply area for advanced and basic life support, a vehicle supply room, a decontamination bay and parking for spare ambulances.
It staffs 17 ambulance tours and three EMS officer tours each day.
"This is a thriving, dynamic area that deserves the best EMS station," Chief of Department Edward Kilduff said.
Chief of EMS Abdo Nahmod added, "It will make a big difference in the community and they will receive the best service we can offer."
FDNY received jurisdiction of the property from the Department of Citywide Administrative Services in 2011 and worked with the Mayor's Office of Management and Budget to secure $1.4 million in funding for the project.
Capt. Richard Chatterton, who oversees Station 13, said that more than 10 paramedics and EMTs who work at the station have more than 10 years of experience in the neighborhood, and some have more than 20.
"We're proud to bring aid to the people in this community and I'm proud to be in command," he said.