Mayor Hails FDNY for Record Low Fire Deaths and EMS Response Times in 2012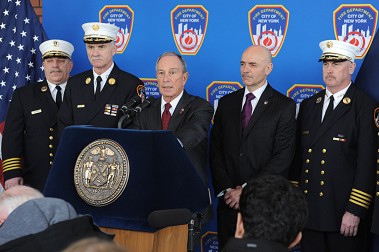 (L to R) Chief of EMS Abdo Nahmod, Chief of Department Edward Kilduff, Mayor Michael Bloomberg, Fire Commissioner Salvatore Cassano and Chief Fire Marshal Robert Byrnes announcing the record-breaking numbers.
As the City celebrated the start of 2013, the FDNY celebrated two major accomplishments from 2012 – the lowest number of fire deaths in recorded history and the fastest-ever ambulance response times.
"These numbers are a direct result of the dedication of the men and women who work for the FDNY," Mayor Michael Bloomberg said. "This city should be proud of the people who serve it."
Decline in Fire-Related Deaths
There were 58 fire-related deaths recorded in 2012. This is the lowest number since records were first kept in 1916. It was the seventh consecutive year of fewer than 100 fire deaths, which has occurred only 12 times in the last 96 years. This number also marks a 12 percent decrease compared to 2011, when there were 66 deaths. The previous low was 62 deaths, recorded in 2010.
There has been a 43 percent decline in fire-related deaths since 2001. From 2002 to 2012, an average of 85 deaths occurred each year, down from an average of 140 deaths a year during the 1990s, an average of 236 fire deaths in the 1980s and 278 in the 1970s.
In 46 of the 58 of 2012's fatal fires, there was no working smoke detector present, so the Department urges everyone to have a working CO alarm at home.
Seniors were the largest group who lost their lives in fires, with 25 of the deceased age 70 or over. And the top causes of fatal fires in 2012 were accidental electrical fires (17), smoking (15), incendiary fires (9) and cooking-related (7).
The Mayor and Fire Commissioner noted the successful reduction of fires and fire deaths in recent years has occurred due to the outstanding efforts of firefighters, FDNY's Fire Safety educators and Fire Prevention members.
Record Low EMS Response Times
The fastest ever average ambulance response times were achieved by EMS in 2012 (6 minutes, 30 seconds) despite a 3.4 percent increase in overall call volume – and a record-setting 1.3 million calls handled.
This record is calculated for the most life-threatening types of medical emergencies known as Segment 1-3 calls, and includes reports of cardiac arrest, unconscious and choking victims.
More than 43,000 additional calls were received in 2012 compared to 2011 – including a new one-day record during Hurricane Sandy of 5,681 emergencies.
The total number of structural fires citywide increased about 1 percent in 2012 compared to 2011, while non-structural fires decreased by 10 percent to the fewest number recorded in city history.
Structural fire response time in 2012 was 4:04, two seconds higher than last year when it was 4:02 due in part to the large call volume that occurred during and after Hurricane Sandy when the FDNY responded to nearly 100 serious structural fires.