[Share]
Published: December 26, 2012
Firefighters Serve in Same Squadron in Afghanistan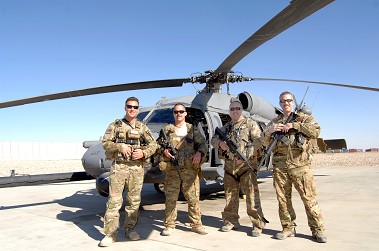 (L to R) FFs Shaun Cullen, Tripp Zanetis, James Denniston and Erick Pound in front of their HH-60 Pave Hawk helicopter. The men served together as part of the 101st Rescue Squadron in Afghanistan. Photo courtesy of Air Force Master Sgt. James Martin.
There are 218 firehouses in New York City, and, some could say, one located nearly 7,000 miles away, at Camp Bastion in Afghanistan.
Four FDNY firefighters – Shaun Cullen, Jim Denniston, Erick Pound and Tripp Zanetis – served on the 101st Rescue Squadron as part of the New York Air National Guard in Afghanistan from September to November. It was the first time a team of FDNY members have worked together in this way, and the elite rescue team is credited for saving more than 100 lives.
"I take tremendous pride in knowing we're coming from a job at home with same skill set as is needed here," Firefighter Shaun Cullen, Engine 54, said from Afghanistan. He serves as the pilot of the HH-60 Pave Hawk helicopter and crew captain. "We are postured for missions in the same way we wait for calls back home – listening for the tones to sound in the firehouse."
Members of the crew worked 12 hour shifts, seven days a week. As soon as they got a call, they were off the ground in minutes, rushing to rescue U.S. Marines and British soldiers. They carried with them a team of medics in the back of the helicopter who treated the victims of trauma or other serious medical conditions as they are rushed to specialty surgeons.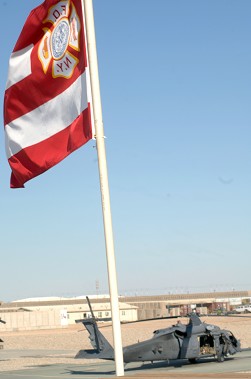 The FDNY flag flying above their camp, with the team's helicopter in the background. Nine FDNY firefighters were deployed together as part of the 26th Expeditionary Rescue Squadron. Photo courtesy of Air Force Master Sgt. James Martin.
There were nine FDNY firefighters total in the 26th Expeditionary Rescue Squadron, with the others working on different teams.
Firefighter Denniston, Engine 285, a flight mechanic who recently returned home, said, "There was a big Fire Department presence here; we even flew the FDNY flag over the compound. It's definitely a family – here and there."
Firefighter Zanetis, Ladder 11, the team's co-pilot, said he likes working with other firefighters while overseas.
"You have an immediate comfort level, you trust them. It's unfortunate to say that the job here is active – like the FDNY – but it's great that the job we train for we are able to do … we are able to save lives," he said.
Both Firefighters Cullen and Zanetis said they are on their second deployment, and Firefighter Denniston just completed his first.
Firefighter Cullen said he joined the Department after realizing he did not enjoy his career in finance. Soon after, he decided to take on a "second job" with the Guard, because he liked the similarities the job had with his work at the FDNY.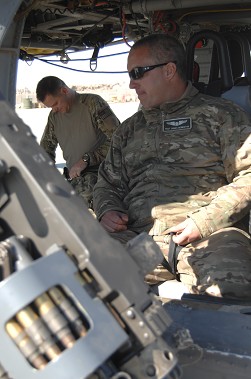 The men aboard their HH-60 Pave Hawk helicopter. Photo courtesy of Air Force Master Sgt. James Martin.
Firefighter Zanetis said he joined the FDNY after Sept. 11, nothing, "After my experience trying to help out [at the World Trade Center site], I realized it was a career opportunity that I didn't want to regret missing 20 years down the road."
He added that he then decided to join the National Guard while at the Fire Academy, after attending his first FDNY line-of-duty funeral for Firefighter Christian Engeldrum. The National Guardsman was killed while serving in Iraq in 2004.
Firefighter Denniston, on the other hand, said he grew up knowing he wanted to be a firefighter. Three months after graduating from the Academy, he signed up for the National Guard, after previously having flown missions for the Coast Guard.
"I think that the National Guard and FDNY attract the same type of people with the same personalities," he said.
All of the firefighters said they like the way their jobs with the FDNY blended into their work overseas.
"We're bringing that spirit of firehouse living and New York lifestyle to this place," Firefighter Cullen said. "We have a tremendous amount of pride and we're thankful to be here doing this mission."