[Share]
Published: December 21, 2012
FDNY EMS Graduates 158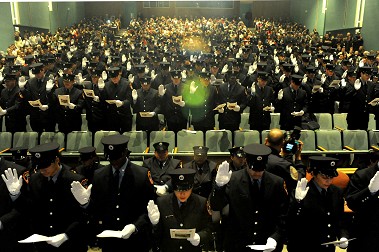 The graduates take the Oath of Geneva.
When 158 new FDNY paramedics and EMTs walked across the stage to receive their diplomas on Dec. 21, everyone noted that it was a special class.
The group included 11 members who served in the armed forces, four graduates of the FDNY high school, one FDNY Explorer and the Fire Commissioner's son.
And every one worked tirelessly the night Hurricane Sandy hit.
"Today is a day you'll never forget, and one that you've all earned," Fire Commissioner Salvatore Cassano said during the ceremony at LaGuardia College.
He applauded the work the new members did the night Hurricane Sandy hit, calling it "the night you truly graduated."
"For some of us, it took years to have that kind of career moment – it that was an extraordinary experience for you to have before even graduating," Chief of Department Edward Kilduff said. "Every run isn't going to be Hurricane Sandy, but every run is important."
The class Academic Achievers included Paramedic Christopher Walsh, and EMTs Percy Scullark, Edwin Tweedy and Tremaine Witter.
"The service you provide is private and personal," Chief of EMS Abdo Nahmod said. "And most of you won't realize the impact you're having on another's life."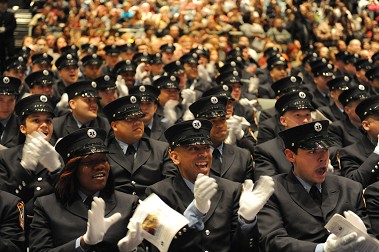 The new graduates cheer as their classmates receive their diplomas.
EMTs James Dunne, Edwin Hernandez, Michael Vindigni and Genaro Burgos were noted for serving in the U.S. Army; EMTs Maxwell Singer and Edwin Tweedy in the U.S. Navy; and EMTs Anthony Manetta, Robert Vales, Anthony Rios, Miguel Cornier and John Santora as U.S. Marines.
EMTs Denzel Adonis, Calvin Cruz, Aurelia Heggs and Quedar Lewis were noted as being graduates of the FDNY High School. And EMT Luis Cruz was a graduate of the FDNY Explorer program.
EMT Adonis described his time at the high school and the EMS Academy as some of the "greatest experiences of my life."
He also described working in Far Rockaway the night Hurricane Sandy hit as "a little scary, but it alerted me as to what working in FDNY EMS would be like. Now I can't wait to get back out there."
EMT Dylan Vidoli agreed, saying, "It was great to learn under pressure like that. Keeping cool was a big thing, and remembering your priorities."
He said the experience only confirmed his passion for the job, something he said he has wanted to do for "as long as I can remember."
Another new graduate with a passion for the job is EMT Joseph Cassano, the Fire Commissioner's son.
"This is a dream come true," he said. "Since I was a kid, I've always wanted to work for the FDNY."
Yet Commissioner Cassano was quick to point out that his son would not follow in his dad's distinguished footsteps: "He's going to make his own."