[Share]
Published: December 20, 2012
NYS Honorary Fire Chiefs Association Gives 10 Scholarships to FDNY Members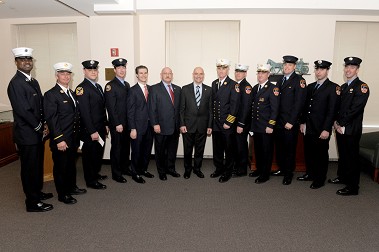 The scholarship recipients with Fire Commissioner Salvatore Cassano, Chief of Department Edward Kilduff, NYSHFCA President Michael Hill and NYSHFCA Scholarship Chair David Gold.
Ten FDNY members pursuing higher education got a boost on Dec. 20, receiving a scholarship from the New York State Honorary Fire Chiefs Association (NYSHFCA).
"You're investing in our future," Fire Commissioner Salvatore Cassano said during the ceremony at FDNY Headquarters. "You continue to step up to the plate for the Department."
Chief of Department Edward Kilduff also praised the scholarship recipients, adding, "This is a highly coveted, highly competitive scholarship. I couldn't think of better representatives of the Department, people who are making us better, stronger and more intelligent."
The men and women receiving scholarships included Deputy Assistant Chief James Leonard, Battalion Chief John Buckheit, EMS Capt. Edward Bobb, FM Paul Cohn, FM Michael Kavanagh, Lt. Clifford Freer, EMS Lt. Barbara Brady, FF Michael Ditaranto, FF Timothy Lyons and FF Rick Madsen.
"Today's recipients really stood out," said David Gold, Scholarship Chiarman for NYSHFCA. "I'm sure you'll all make us proud."
The NYSHFCA presented $25,000 in scholarships this year, totaling more than $100,000 for the six years they have presented scholarships.
Chief Leonard, who is studying for his Master's degree in Fire Protection Management at John Jay said he is pursuing this degree, "to be the best I can be to support the people who work for me."
Capt. Bobb is studying Emergency Management at CUNY added, "This will really help me achieve my goals."