[Share]
Published: December 11, 2012
Paramedic Collecting FDNY Items for Sick Boy in Virginia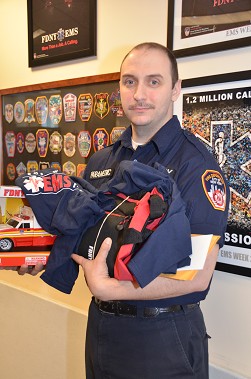 Paramedic Stephen Rogers with just a few of the items donated for Nathan Norman.
FDNY Paramedic Stephen Rogers from Station 57 is hoping to make a 6-year-old Nathan Norman's hero dreams come true, collecting hundreds of FDNY items to send to the Virginia boy, who has terminal brain cancer.
"People ask me 'Why?' and I say, 'Why not?'" Paramedic Rogers said. "I don't do this job for the money. If someone needs help, I help."
Nathan idolizes first responders and told his family that all he wanted this holiday season were cards, letters and patches from his heroes.
Paramedic Rogers said he heard about Nathan through his wife, who is a nurse at Lutheran Hospital. He did a little investigative work, to make sure the story was legitimate, and connected with many people in the boy's tight-knit community.
On Nov. 27, he worked with Lynda Thomson, Community Coordinator, to contact members at every FDNY firehouse and EMS station, asking them to send cards, toys, patches, t-shirts and other paraphernalia for the boy.
"There are just packages and packages coming in," he said. He has also given members the opportunity to send items directly to the boy's family in Rustburg, Va., so he will never be sure how much was sent.
He said he plans to take some of his upcoming vacation time to visit the boy's family and deliver some of the items.
"I have two children of my own," he said, speaking of his daughters, ages 9 and 2. "To have to go through something like that would kill me; no child should have to suffer like that. So this is something that just took to me and I'm happy to help."