[Share]
Published: November 27, 2012
Adjutant General of NYS Meets with FDNY Incident Management Team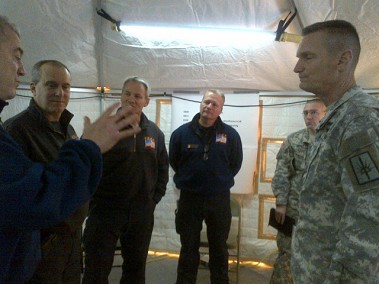 The FDNY's Incident Management Team Command Post at Floyd Bennett Field in Brooklyn was visited by Major General Patrick A. Murphy on Nov. 26.
General Murphy is presently the Adjutant General of New York State and leads 16,000 members of the NY Army and Air National Guard.
General Murphy met with (from left to right) Planning Section Chief George Maier, Deputy Incident Commander James Manahan, Incident Commander James Kane and Liaison Officer Steven Berube, as well as Dina Maniotis, Assistant Commissioner of NYC OEM (not pictured).
The General discussed with the team members their shared mission in supporting the NYC Department of Health and Mental Hygiene in the completion of wellness check surveys and the distribution of sanitary kits, MRE's and blankets for affected residents in impacted areas within the City of New York after Super Storm Sandy.