[Share]
Published: November 23, 2012
FDNY EMS Collects food for Brooklyn Rescue Mission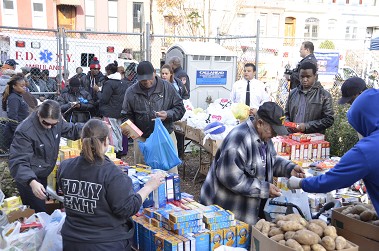 Members at the EMS Academy at their food drive.
FDNY members collected food for the Brooklyn Rescue Mission in Bedford-Stuyvesant for Thanksgiving. More than 150 EMTs in training, 75 paramedics in training, dozens of CFR firefighters, instructors and staff of the FDNY EMS Academy took part in the effort.
Items collected included 120 turkeys, stuffing, 400 lbs. of potatoes, canned fruits and vegetables, soups, pasta, cereal and other breakfast items.