[Share]
Published: November 22, 2012
Stories from Hurricane Sandy: Giving Back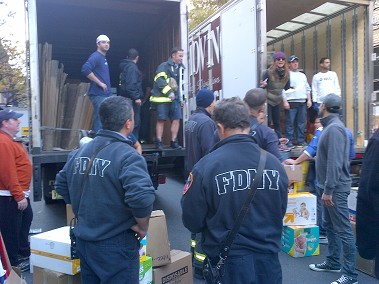 Firefighters from across the city helped with the 'UES Drop Off.'
All FDNY staff worked to help as many people as they could the night Hurricane Sandy hit New York City. But they have been just as active in the days and weeks after, helping New Yorkers get back on their feet. Here are just a few of the many ways FDNY members are giving back.
EMS Captain Mark Bonilla
EMS Captain Mark Bonilla, Station 19, coordinated the 'Team Bonilla Hurricane Relief Drive,' in the Bronx, collecting items for families in need on Staten Island.
"The aftermath of Hurricane Sandy was so devastating and has truly affected so many people," Captain Bonilla said. "We had to do something to help. The Bronx was spared from the brunt of this storm and it was our turn to give back. The response has been overwhelming."
He collected as much as his station could store. Pearson Moving Company donated a truck and he said they filled it full of food, water, clothes and baby carriages. He said he is also in the process of creating a non-for profit fund for his station to help in future emergencies.
"I wish we could have done more," he said.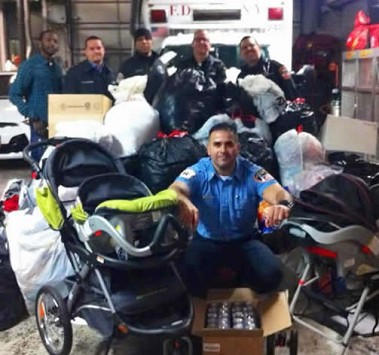 Capt. Mark Bonilla with some of the items collected as part of the 'Team Bonilla Hurricane Relief Drive.'
Firefighter Dave Guilford
Firefighter Dave Guilford, Engine 22, was working at his Upper East Side firehouse on Thurs., Nov. 1, and was talking with fellow firefighters about how they wanted to organize a collection to help people in need after the storm.
As he walked home from work, he asked the owners of a local bar, Molly Pitchers, if it would be ok to use their location as a dropoff center. They agreed and on Friday, the 'UES Drop Off' was started.
"The Upper East Side wasn't seriously affected by the storm, and everyone here felt so helpless," he said. "We just provided a way for people to help."
After posting a few signs and talking to people as they headed to work that morning, he was able to gather a huge amount of donations that night. So many that he slept in his car outside the bar, just to make sure everything stayed safe.
From Friday through Sunday, they gathered enough supplies – including clothing, food and cleaning supplies – to fill nine trucks, all of which were donated by local moving companies. The following two weekends, they continued collecting and filled 18 trucks that were sent to some of the most affected areas, including the Rockaways, Far Rockaway, Long Beach, Island Park, Point Lookout, Gerritsen Beach, Howard Beach, Broad Channel and Staten Island.
Firefighter Guilford said he often goes into the affected areas to see what people need, and is planning to work with local charities to purchase building supplies like insulation and wheelbarrows to bring to those in need. He also said he might kick off another drive around the holidays.
"I've seen some of the distribution points afterwards and people were in tears," he said. "Guys from firehouse live there, everyone has friends or family there. It makes it a little more personal and I'm happy we could help in some way."
Firefighter Phil Pillet
Firefighter Phil Pillet from Ladder 56 was so moved by what happened the night of the storm, he drove down to Delaware and, with his own money, purchased three generators, a trash pump and many tool sets and brought them to Breezy Point, Queens.
He worked with several other FDNY members to start 'Operation Gut and Pump,' which is helping the people of the storm-ravaged area get back on their feet.
"We had to do something," he said. "It was a little disorganized in the beginning – and still is, somewhat – but if we put a footprint in Breezy, if something works out, we can get to other communities."
Since its inception just days after the storm hit, they have secured everything from a tent to a wipe board to keep themselves organized and make sure they help everyone who needs the support. They have about 40 volunteers working every day for the effort – many of them FDNY members – and so far they have reached more than half of the 150 homes requesting assistance.
"It's personal for a lot of us who know people in the Breezy community," Firefighter Pillet said, adding that he has responded with the FDNY's Incident Management Team to a number of tragedies like this across the country, including Hurricane Katrina. "This is my way to give back."