[Share]
Published: November 21, 2012
Stories from Hurricane Sandy: EMT Michael Vindigni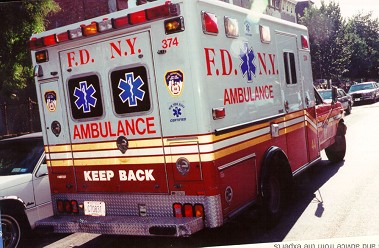 EMS Ambulance
EMT Michael Vindigni's career started with a bang the night Hurricane Sandy hit.
Still in training at the EMS Academy, he had never before responded on an ambulance, but because of contingency operations, he was right in the middle of the action, working with EMTs Nicholas Tacopino and Christopher Roman out of Station 23 on Staten Island.
"I thought the night would be hectic, and it was," he said.
His tour started at 3 p.m., just before the storm hit. Within about a half hour, they responded to a man in cardiac arrest. They were the first to arrive on the scene and immediately began CPR on the victim. Soon after, Lt. Kevin Hooghuis and Paramedics Jason Mendelsohn and Roberto Silveira arrived.
The team worked more than 45 minutes to revive the patient. They were able to get his pulse back and, in the ambulance, get his breathing rate back.
He worked until 11 p.m. that night, responding to many slips and falls in the heavily flooded area. He said it was incredible to be responding to emergencies in flooded areas and in pitch black conditions, trying to drive around downed trees and power lines.
But, he said, the night only confirmed his desire to become an EMT.
"Just being able to help people was great," he said. "It's nice knowing that everyone who needs help is calling you."