[Share]
Published: November 20, 2012
Lt. Joseph DiBernardo Remembered with Plaque Dedication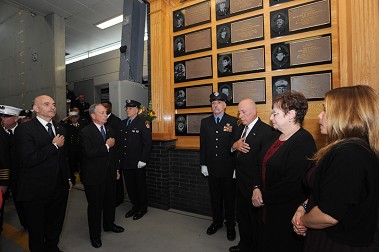 Mayor Michael Bloomberg; Fire Commissioner Salvatore Cassano; the DiBernardo family, including his father, Deputy Chief Joseph DiBernardo, Sr., mother, Barbara, and sister, Carolyn; and ceremonial officers pause for Taps as a plaque on Rescue 3's memorial wall is dedicated for Lt. Joseph DiBernardo.
One year after his tragic death, firefighters, family and friends gathered at the quarters of Rescue 3 in the Bronx to remember Lt. Joseph DiBernardo.
"Bravery, leadership and courage are all qualities for which we will remember him," Mayor Michael Bloomberg said. "Those who loved him will always feel his loss."
Fire Commissioner Salvatore Cassano added: "He's a rare individual who realized his childhood dream [to be a firefighter]. And his service to this city, his contributions to the job will have an impact for years to come."
Lt. DiBernardo suffered critical injuries on Jan. 23, 2005, when he and five other firefighters were forced to jump from a fourth floor window after being trapped by fire. Lt. Curtis Meyran and Lt. John Bellew died that day from their injuries.
The hero endured multiple surgical procedures, years of medical treatments and physical therapy due to his injuries. He retired from the FDNY in January 2006. At the time of his death was taking numerous pain medications, which the Suffolk County Medical Examiner cited as determinate in his accidental death on Nov. 22, 2011.
"He inspired all of us with his enthusiasm and commitment to firefighting," Chief of Department Edward Kilduff said.
Lt. DiBernardo was appointed to the FDNY on Oct. 15, 1995, after first working for the Department as a Fire Alarm Dispatcher in the Bronx Communications Office.
In his 16 years as a New York City Firefighter, Lt. DiBernardo was assigned to Ladder 56 in the Bronx, Engine 47 in Manhattan, Engine 238 in Brooklyn, and Squad 61 and Rescue 3 in the Bronx. In addition, he taught rescue training at the FDNY Technical Rescue School.
Lt. DiBernardo also served as a volunteer Firefighter in the Setauket Fire Department in Suffolk County, NY.
"He understood the commitment of what it took to be a rescue firefighter," Capt. James Ellson of Rescue 3 said. "He will always be a part of this fire company."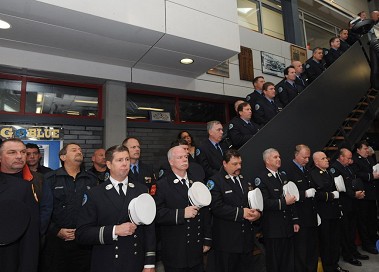 Hundreds of firefighters, family and friends attended the plaque dedication.
Retired Firefighter Jeff Cool, Rescue 3, who was among the six firefighters forced to jump from the Bronx fourth floor window in 2005, described Lt. DiBernardo as an incredible firefighter with an incredible memory.
"Every time I worked with him I learned something new," he said.
He also described the experience at the Bronx fire. He said and then-Firefighter DiBernardo stood at different windows, the fire blowing out over their heads. Firefighter Cool had a safety rope, and said he would lower Lt. DiBernardo with it. Lt. DiBernardo refused, saying he would lower Firefighter Cool because he had a wife and kids.
After lowering Firefighter Cool as far as he could, Lt. DiBernardo tied himself to the rope, which broke after he lowered himself just a few feet.
"Joe placed my life before his own," Firefighter Cool said. "We speak of the brotherhood at the firehouse, but I saw it first hand that day."
Lt. DiBernardo is survived by his father, retired FDNY Deputy Chief Joseph G. DiBernardo, and his mother, Barbara.
Chief DiBernardo spoke of his son's sense of humor and passion for the Fire Department. He said even as a child, Lt. DiBernardo would record the FDNY scanner and use the sound when he played with his toy fire trucks. And, he noted, "As a kid he would rather go to work with dad than play ball with his friends."
He said one of his proudest moments as a father was when his son was sworn in as a firefighter. He smiled and said, "The little boy in a plastic fire helmet grew up to live his dream."