[Share]
Published: November 19, 2012
Stories from Hurricane Sandy: The Day After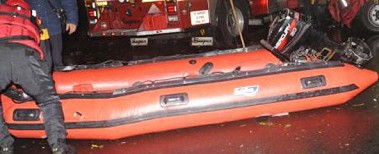 Firefighters using a Swift Water boat the night Sandy hit New York City.
When Hurricane Sandy hit Staten Island, many people reported seeing more than 10 feet of water in some areas. Yet even after the storm passed and the tidal surge receded, there were many low-lying areas that remained severely flooded and, thus, many people trapped.
Firefighters in Midland Beach worked nonstop the day after the storm, trying to rescue those victims – more than 150 in all.
"Members did a tremendous job getting to every address," Battalion Chief Richard Portello said. He was operating at a command post where he would dispatch units – including a squad company and five Swift Water boats. "They really went above and beyond what they're normally expected to do."
He oversaw the area bound by Hyland Boulevard and Stobe Avenue on the north and Father Capodanno Boulevard and Midland Avenue on the south (covering more than 160 acres). There, firefighters not only responded to the homes of people who called to say they were trapped, but also to search homes that were severely damaged in the storm, to ensure there were no victims too injured to call for help.
Chief Portello noted due to the topography of the area, many parts still had more than six feet of floodwater, while others had just a few inches, so firefighters in boats would need to take the boat as far as they could, step out, lift it out of the water and carry it to the next flooded area. Often this happened several times before they could reach a victim.
In some circumstances, they even worked with members from the Department of Sanitation, who operated a front loader truck to help them remove victims from dangerous areas.
All the people they rescued were taken to the closest safe area, where a fire truck would pick them up and take them to a shelter.
The Chief noted that firefighters, many of whom were concerned about the welfare of their own homes and families, were so motivated to help, they worked more than 12 hours without a break to rest or eat.
"One thing that always comes through [during and after an event like this] is when New York City firefighters know someone is in trouble, they'll do whatever they have to do help get them to safety," Chief Portello said. "It's a testament to the will of the people on this job. They really care."