[Share]
Published: November 18, 2012
Stories from Hurricane Sandy: Rescue 5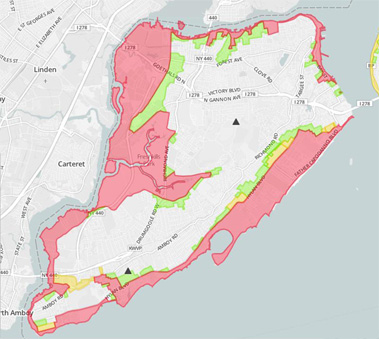 A map of Staten Island showing the flood zones.
The members of Rescue 5 on Staten Island rescued approximately 75 people the night Sandy hit. Yet, they want to make clear, they were not heroes for what they did.
"We did our jobs, period. We did nothing heroic," Firefighter Tony Guida said. "We are one company and we did what we could to help people using the resources we had. The entire job, every company, every member, did their best that night. Our story is simply one of many."
Firefighters from Rescue 5 were in Cedar Grove Beach when the storm made landfall. They had an inflatable boat and were making trips to and from the water's edge, an area that was flooded with about eight to 10 feet of water.
They scanned the area, helping people walking down streets, on rooftops, trapped in attics and in one-story residences. They described how the streets had become canals and numerous people were out on boats and surfboards, weaving up and down streets trying to save those in danger.
So many people needed help that fire companies began to get creative with their tools, such as using roof ropes as tethers.
Debris, telephone poles and downed trees blocked access to some streets. One, Firefighter Guida remembered, was obstructed by a house that had floated off its foundation and into the middle of the street.
Next, they moved to Midland Beach, where there was a report of fire. They said they found two fires in that location, but there was so much water in the area, they had no way of getting their apparatus to the site to extinguish it.
So instead, they searched for anyone in danger and reassured others that it was best to stay put. They heard people shouting for help in the area and would investigate if they needed assistance. Because their boat was so small, they had to make agonizing, but necessary, decisions about who should be removed first.
And they had plenty of memorable encounters.
One man they saw was wading in chest-deep water and headed toward the shore, where the water was even deeper. Firefighters pulled him into the boat and he told them he was headed two streets closer to the ocean, where his family was stranded. Six adults and a 1½-year-old baby had weathered the storm on the roof of their building. Firefighters pulled them to safety.
They then came upon another, low-lying street with bungalows that had three to four feet of water inside.
After finding, and pulling out, numerous people, firefighters came across a family of four and their large dog. Firefighters feared the dog would puncture the boat, taking it out of commission, so the parents sent their teenage children with the firefighters and stayed back with the animal.
When the members of Rescue 5 dropped them off at a school that was being used as a shelter, firefighters located members of Engine 160, who had commandeered a steel-bottomed boat, and asked them to grab the parents and dog.
Another story they recounted was that of a couple in their 50s or 60s, who were found seeking shelter in an unlocked home in the area. The woman was in a nightshirt, up to her chest in water and was clutching a bag.
Firefighters asked her to abandon the bag, as they wanted to make sure they could fit as many people as possible on the boat. There was a language barrier between them, but firefighters eventually realized that in the bag were the couple's immigration papers.
"It was their whole life in that bag," Firefighter Guida said. "So we made an exception."
After pulling numerous other stranded people to safety, the members of Rescue 5 headed to Tottenville, where they searched for the family who was swept out of their home during the storm.
"That night, the entire Department worked together to help people," Firefighter Guida said. "Unfortunately, even with the efforts we made, people lost their lives. But we tried our very best to help the citizens of this city."
In the storm's aftermath, he and the members of his company said they are overwhelmed by the City's response. Whether it was firefighters spending their off-hours helping strangers repair their homes; a family visiting the members of Engine 160, to tell them they are grateful the firefighters were with their father when he died during the storm; civilians spending time and money to help their neighbors; or Department of Sanitation workers helping people get back on their feet.
"Today I'm proud to be a New Yorker, to be an American," Firefighter Guida said. "I wish we could have done more that night, but I'm so proud to be a member of the FDNY."