[Share]
Published: November 17, 2012
Stories from Hurricane Sandy: Firefighters from Engine 168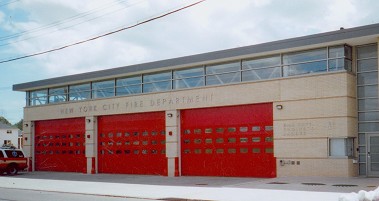 The quarters of Engine 168
Firefighters from Engine 168 on Staten Island (Lt. Sean Danis, Joe Broadbent, Mike Sottosanti, Marc Thalheimer, Dave Vega and Scott Wiesner) said the night Hurricane Sandy hit, they were racing from one side of the Island to the other responding to calls … but one was very memorable.
They were called to Yetman Street at around midnight, to search for a missing person.
Crews were already in the area, searching for a mother, father and 15-year-old girl who were swept out of their Tottenville home during the storm.
Firefighters from Engine 168 split into two groups to search for them, and Firefighters Thalheimer and Broadbent decided to search the backyards of the block where the family's home once stood.
They heard a faint scream, so they turned off their radios and followed the noise. There was a tremendous amount of debris in the area, so the men had to climb around aboveground pools, clothing and pieces of furniture to reach the victim.
They finally found a woman covered under rubble. The firefighters were concerned about downed power lines in the area and a strong odor of gas, but knew they had to help her.
"There were literally pieces of a house on her," Firefighter Thalheimer said.
She was in shock, but coherent.
"She leaned over and said, 'my husband and daughter died.' My heart just sank," Firefighter Thalheimer said. "She was telling us what happened, that the water was so high, at one point she was grabbing onto telephone wires."
Other firefighters were notified, and they climbed over debris to help. The streets were scattered with remnants of three or four homes that were completely demolished on the block (including that of the woman they found) and many others were breaking apart.
"The removal was time consuming and arduous, there was a lot of debris in the street and we had to watch our footing," Lt. Danis said. "You'd walk 100 yards and it felt like climbing a mountain. But we got her out in time."
He said she was found half way down the block from her home.
"We had to look at maps to understand where we were because the streets were unrecognizable," Lt. Danis said.
EMS members transported her to the hospital, where they found she had a very low body temperature, and many bumps, bruises and splinters.
Her husband and daughter were killed.
Firefighter Thalheimer attended to the daughter's wake, because, he said, "I have a daughter and I felt so sorry for this woman. I just wanted to pay my respects."
He said he spoke with the woman he helped rescue, as well as her family.
"They said she kept talking about who found her. Her brother said he had been looking for her rescuers; then I just walked in."
He asked her to stay in touch and to let him know how she is doing.
But, he said, he does not want his company to get attention for finding the victim. He said all FDNY members worked together that night to help, including Engine 151, Ladder 76, Ladder 84, Engine 156, Engine 168 and Ladder 79.
Lt. Danis, who said he was calling his wife as they drove from job to job that night, to ensure she and their three children were ok and to make sure their friends in the flooded areas escaped in time, described the night as "simply humbling. Seeing that first hand and then coming home and everything is fine … it's hard to describe. It makes you reset your priorities.
"I'm hopeful for the future, though, people are coming out and doing extraordinary things to help their neighbors. There's just been an outpouring of support that just shows our resiliency."