[Share]
Published: November 16, 2012
Stories from Hurricane Sandy: US Coast Guard Moves in With Marine 9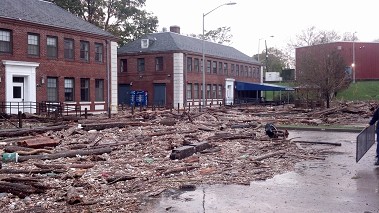 The USCG's base on Staten Island the morning after the hurricane. Photo courtesy of Lt. Commander Bill Walsh.
Members of the U.S. Coast Guard (USCG) in New York are based at 10 Search Lane on Staten Island. Located just north of the Verrazano Narrows Bridge, it was seriously damaged the night Hurricane Sandy hit New York City.
"It was flooded and there was a football field worth of debris covering the lower base," USCG Lt. Commander Bill Wash, Commander of the Station of New York said, noting that they were finding everything from refrigerators to buoys covering the port. "With no place to base out of, it challenged us."
They turned to the members of the FDNY Marine Operations for help. And the crew has been living at the quarters of Marine 9 since the day after the storm hit.
"We had a great relationship before the storm and this makes it even better," Lt. Commander Walsh said. "The Coast Guard has federal requirement for a 30 minute response capability. We strive to meet that standard and exceed that standard – and launching out of Marine 9 helps do that."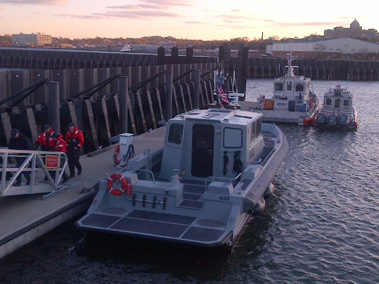 The U.S. Coast Guard's 45 ft. RBS, the FDNY's 33 ft. fireboat and the Naval Militia PB440, all berthed at Marine 9, while the U.S. Coast Guard stays at the firehouse. (Not pictured, the Firefighter II fireboat, which also is berthed there). Far in the background, the ship that grounded during the storm.
The USCG has supported the Marine Operations too, securing fuel and supplies immediately after the storm.
They do not know when they will be able to return to their base on Staten Island, but members of the Marine Operations said they are welcome for as long as it takes to clean up.
"For us, it's not just us operating out of [Marine 9], we're working together every day," he said. "If there's a search and rescue case happening, you're going to see two crews responding – the Coast Guard and the red and yellow of the FDNY. This is the perfect fit for us, there's a relationship being built that can only pay dividends in the future for New York."