[Share]
Published: November 15, 2012
Stories from Hurricane Sandy: EMS Deputy Chief Martin Braun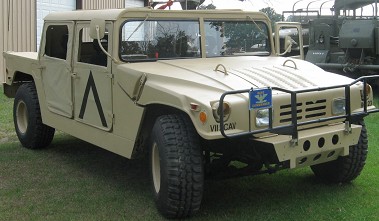 An example of a Humvee
Describing it as a night where teamwork played a key role, EMS Deputy Chief Martin Braun said everyone rose to the task the night Hurricane Sandy hit New York City.
At around 8 p.m., he and many others responded to the Fire-EMS Command Post on the Belt Parkway in Brighton Beach, Brooklyn. Conditions were chaotic, with an extreme wind that was taking street signs and tree limbs airborne, and a failure of the power grid that led to a shutdown of all cellular towers in the area. Around them, the storm surge was forcing people to abandon their submerged vehicles.
While at the Post, Chief Braun was approached by a woman who pleaded for someone to rescue her 90-year-old, wheelchair-bound mother, who was stranded in a one-story bungalow.
"She was in such a state of panic, she'd walked through the water and was going to anyone she could find to get help," he said.
He knew they would need to take extreme actions to access the patient, who was in an area no longer accessible to emergency responders.
The National Guard Humvee team talked with EMS members and determined they would work together to access the home at Brighton 10 Street. EMTs Christopher Russo and Thomas Kartelias volunteered to accompany the Chief.
Chief Braun sat on the roof of the driver's compartment and saw the water roll over the hood of the vehicle; the EMTs sat inside said the water filled the vehicle over their waists.
"I've never seen anything like that," Chief Braun said.
They drove to a high point and inspected the vehicle. Since the Guardsmen worried they would experience engine failure if they went any further, the EMS members grabbed their gear and continued on foot.
Immediately they came across approximately 30 people, including some adults with infants, who had abandoned submerged cars and fled to higher ground. They immediately communicated the situation to the command post and made sure everyone was secure, then continued toward the bungalow.
As they walked, they saw civilians waving flashlights through apartment building windows and from rooftops, pleading to be evacuated. They reassured everyone on upper floors that they were safe if they stayed in place, and directed persons in hazardous locations to safer areas.
"We reassured them the worst was over, that we knew they were there, and that we'd check on them," he said.
As they neared the bungalow, the water was moving like a river.
"You couldn't tell where the high and shallow points of the water were, you had to judge by how high it was on the parked cars," he said. "And the wind was so strong that you had to pause and grab onto something or kneel down – I felt like a kite about to leave the ground."
After several minutes of wading through water they described as smelling of sewage, heating oil, diesel fuel and natural gas, they located the bungalow. Floodwaters reached the top stoop of the one-story home, where they found the sister of the woman who they met at the command post, the 90-year-old wheelchair-bound woman and a home health aide – all of whom were scared and anxious.
They assessed the victims and once they determined patient's condition had improved, EMTs Russo and Kartelias quietly discussed carrying the woman to the command post, but, the Chief said, determined the risks of injury were too great.
After talking with them for a while and ensuring all were in good health, the team determined flood waters were receding and they were no longer in danger. So they let the women know emergency responders would be ready to help, if needed, before returning outside.
"We told them we'd stay in the area in case they needed help," he said. "Just knowing they weren't forgotten made them confident that they wouldn't be lost in the storm."
After wading back to Coney Island Ave. in fast-moving, five-foot deep water, all three members continued south towards Brighton Beach Ave., to assess conditions and continue facilitating evacuation of various buildings, including a nursing home.
He said he had worked through the 1992 Nor'easter that hit New York City and "I thought that was a worst-case scenario, but this was 10 times worse."
But, he said he applauded the outstanding work of all FDNY EMS members did that night.
"People who may have lost their homes or cars, who were worried about the welfare of their own families, were outside in the storm doing work that is completely outside the realm of what they normally do," he said. "Members I never expected took risks and rose to the task to help others. Everyone really pitched in."