[Share]
Published: November 15, 2012
FDNY Honors Staff at Administration Medals & Awards Ceremony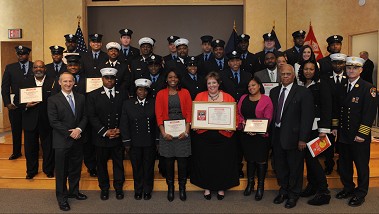 Members of the FDNY Recruitment Unit, who received the Fire Commissioner's Award for Outstanding Service.
The FDNY honored staff members who worked tirelessly in the last year to support the Department's mission at the 2012 Administrative Medals and Awards Ceremony.
"These are achievements that I never dreamed of when I started with the Department 43 years ago," Fire Commissioner Salvatore Cassano said. "This Department is safer, stronger and better prepared because of the people honored here."
Among the award recipients was the staff who supports DiamondPlate, an internal website that serves as a communications and training tool for FDNY members in the field; Maryland Sunday, an Associate Fire Prevention Inspector who developed an advisory program to instruct business owners about the installation and testing of the rangehood fire suppression system; the Recruitment and Diversity Unit, who designed and implemented a program to increase diversity within the uniformed ranks; the Green Initiatives Work Group, who helped reduce the FDNY's carbon footprint; and EMT Mariela Flores from the Technology Unit, who maintains the Department's wireless devices.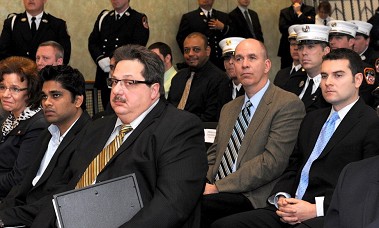 Members of the DiamondPlate team, who won the Administration Medal.
"These people show the true character of the Department," Chief of Department Edward Kilduff said. "They're doing whatever it takes to solve a problem and helping the FDNY move forward."
First Deputy Commissioner Don Shacknai added, "You are all an important part of why we're considered the best. You should be proud of the hard work you've done and continue to do."