[Share]
Published: November 05, 2012
FDNY EMS Members Promoted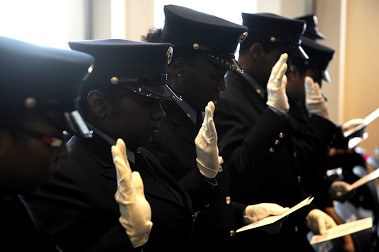 Members take the Oath of Office.
Thirty-five FDNY EMS members were promoted on Nov. 5 at FDNY Headquarters.
The normally joyous ceremony took a more somber tone in the aftermath of Hurricane Sandy. All the promoted members responded to emergencies during and after the storm hit New York City just a week before, even as many suffered damage to their own homes.
"I don't know how you did the work, but you did an amazing job," Fire Commissioner Salvatore Cassano said. "This week, the people of New York City came to know the work you do – and really appreciated it."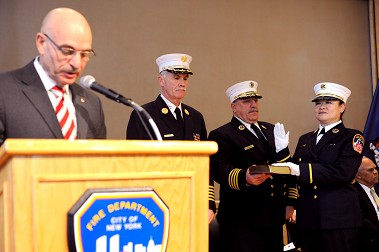 Division Chief Sophia Kwok takes the Oath of Office.
Among those promoted were one division chief, 22 lieutenants and 12 paramedics.
"As ambulances drove around the storm-ravaged areas, they brought with them a level of stability and confidence to the community – the FDNY was there to look after them," Chief of Department Edward Kilduff said.
As the hurricane recovery continues, these newly promoted members will be assigned to units throughout the city.
"There are stories yet to be told of the heroism and compassion our members showed during the storm," Chief of EMS Abdo Nahmod said. "I'm so proud to be a part of this organization, working side by side with you all."