Plaque Dedicated for Six Firefighters Killed 50 Years Ago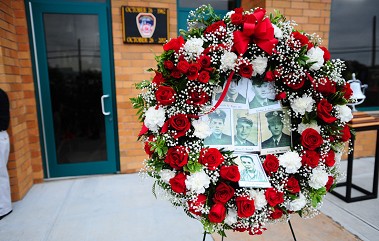 A wreath at the plaque honoring the firefighters who died in Maspeth on Oct. 26, 1962.
Numerous past and present firefighters, family and friends gathered at the VIP Auto Body Shop in Maspeth, Queens, on Oct. 26, to remember six FDNY members killed at the location exactly 50 years earlier.
"We're here to remember six men who were taken from their families much too soon," Fire Commissioner Salvatore Cassano said. "Plaques like these are not names on a wall, but remind us of the dangers of this job and how we never forget our Fire Department families."
A plaque honoring Capt. William Russell and Firefighters Richard Andrews and James Marino of Engine 325; Firefighters Richard Gifford and George Zahn of Engine 238; and Firefighter Francis Egan of Ladder 115, was dedicated outside the shop on 56th Road. The firefighters died while operating at a four-alarm fire at the Sefu Fat and Soap Company on the evening of Oct. 26, 1962.
"Today is a reawakening," Chief of Operations James Esposito said. "This plaque serves as a reminder of the hazards we face daily, and our commitment to learning from the tragedies of the past."
Peter Keane, owner of the shop, said he set up the business at that location in 1990.
Recently, as they began renovations, he said they found charred remains of a building beneath the current structure.
His colleague, Mark Eberle, started researching the fire, remembering his grandfather saying there was a fatal fire at the location years before. He said he came across the headline while looking through microfilm at the library and their friend, Firefighter Michael Sarro, HazMat 1, helped them gather more details.
"I never expected something this huge to develop," he said. "This is really great for the families."
The shop volunteered to purchase the plaque for the outside of the building as a tribute to the men who died.
"This is really touching," Mr. Keane said. "Nobody in the neighborhood knew this happened here. But I just keep thinking that these firefighters' kids grew up without fathers and thinking about my daughter [11-year-old Mileni]."
Among those in attendance were several firefighters who responded to the fire and their families, including Director of the Fire Safety Education Unit Anthony Mancuso, whose uncle, Firefighter Gregory Pirozzi, Ladder 115, received a medal for saving the life of Lt. Walter Pollack of his company. The officer was one of nearly 20 firefighters who were trapped and injured in a collapse while operating at the fire.
Firefighter John Killcommons, 78, was among those who responded to the fire. He said he was appointed to the FDNY with four of the men who died in the fire.
"I always passed by here with a tear in my eye," he said. "This is a beautiful tribute. And I'm so proud to see the active members stepped up to continue the traditions of the Fire Department family."