Lt. Anthony Mancuso Receives Customer Service Excellence Award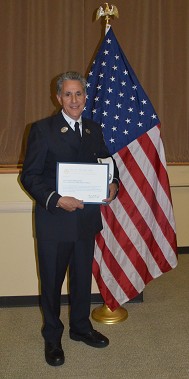 Lt. Anthony Mancuso with his Customer Service Excellence Award
Lt. Anthony Mancuso, Director of the FDNY's Fire Safety Education Unit, received a special 2012 Mayor's Customer Service Excellence Award on Oct. 24, during a ceremony at the Emigrant Industrial Savings Bank in Manhattan.
"There's no formula for good customer service," Mayor Michael Bloomberg said. "You just know it when you hear it and you know it when you see it. Everyone here today has given their best and New Yorkers recognize the effort."
Lt. Mancuso received the honor for his outstanding work educating the public about fire safety, including presentations to more than 3,000 deaf and hearing impaired New Yorkers.