Fire Lieutenant Who Served in Afghanistan Promoted to Captain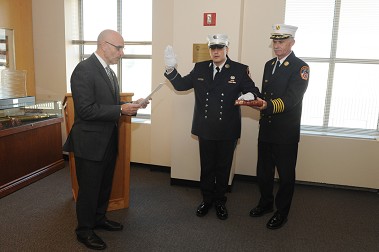 Capt. Aldo Adissi takes the Oath of Office.
Capt. Aldo Adissi, Squad 61, ceremonially was promoted to his new rank on Oct. 18 at FDNY Headquarters.
"We appreciate someone who has served the city and the country," Fire Commissioner Salvatore Cassano said.
The officer was deployed with the Air National Guard in Afghanistan during his official promotion in May.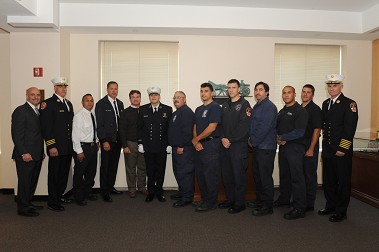 Capt Aldo Adissi with firefighters who attended the ceremony in support
His wife, Catherine, and 9-year-old daughter, Corinne, attended the ceremony and accepted his new badge on his behalf.
"[During the ceremony in May] everyone was focused on your daughter, for the right reasons," Chief of Department Edward Kilduff said. "It brought to light your bravery and the sacrifices they made while you were away."