The FDNY Remembers the 23rd Street Fire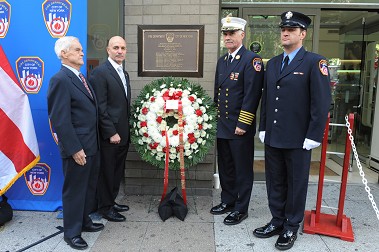 A wreath was lain at the plaque honoring the 12 members who died in the 23rd Street fire on Oct. 17, 1966.
Firefighters past and present gathered at the corner of Broadway and 23rd Street in Manhattan on Oct. 17 to remember the 12 FDNY members who died battling a fire at that location 46 years earlier.
"This fire will forever be a testament to the dangers our members face every day," Fire Commissioner Salvatore Cassano said. "The 'Brave 12' live on in each of our firefighters here today. In the commitment they demonstrate every day."
The 5-alarm fire was the single worst loss of New York City firefighters in the line of duty prior to Sept. 11, 2001.
Twelve members of every rank – deputy chief to probationary firefighter – were killed when the ground floor of the Wonder Drug store collapsed. The fire originated in a basement storage area, which was concealed by a four-inch thick cinderblock wall, illegally constructed by the building's previous owner.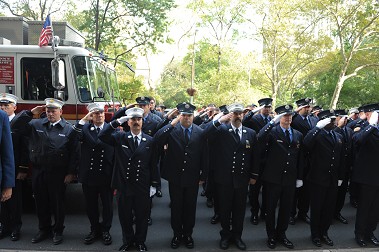 Firefighers from around the area attended the ceremony.
"This plaque means something to the members of this community," Chief of Department Edward Kilduff said. "It reminds us all that 12 special people died here."
During the ceremony a new plaque was dedicated to honor Deputy Chief Thomas A. Reilly and Firefighter William F. McCarron, both of Division 3; Battalion Chief Walter J. Higgins of Battalion 7; Lieutenant Joseph Priore, Firefighter James V. Galanaugh, Firefighter Joseph Kelly, Firefighter Daniel L. Rey and Firefighter Bernard A. Tepper, all of Engine 18; and Lieutenant John J. Finley, Firefighter John G. Berry, Firefighter Rudolph F. Kaminsky and Firefighter Carl Lee, all of Ladder 7.

"It's so nice to see so many people come to this ceremony every year," Christine Priore, the daughter of Lt. Priore, said. She added that she was proud of every member of the FDNY for their bravery.