Firefighters Find Lost Dog and Reunite it with Owner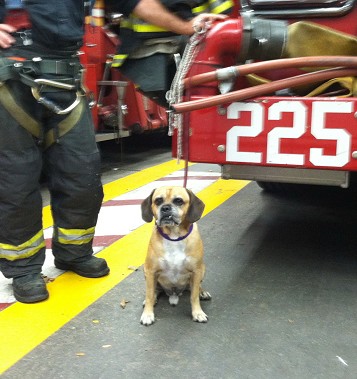 Champ, the dog rescued by the members of Engine 225 and Ladder 107.
Firefighters at Engine 225 and Ladder 107 in Brooklyn helped reunite a lost dog with his grateful owner on Oct. 16.
In the evening on Oct. 15, firefighters got a knock on the firehouse door saying there was a dog tied to the fence in the back alley of the firehouse.
They looked around to see if anyone had tied the pug-mix breed dog's leash to the fence, but did not see anyone. It was raining, so they took the dog inside and decided to search for the owner the following morning.
"[He's] a well-behaved, well-trained dog, so we knew someone owned him, he wasn't a stray," Firefighter Perry Scholl, Ladder 107, said. "We knew someone was missing him."
They gave the dog food and water, and an blanket on which to sleep.
The next morning the Engine Company took the dog to the ASPCA and asked he had been reported missing. They found a flyer from someone who had stopped by saying she lost her dog (named Champ) and scheduled to reunite the pair that evening.
Firefighter Scholl, who has owned dogs in the past, said he was happy they were able to reunite the pair. "You want to make sure you do the right thing. I'm just happy we could help."