FDNY Firefighters to Support Children with Rett Syndrome at Annual Event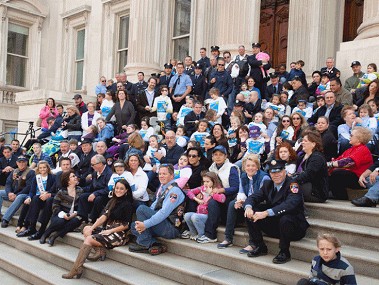 Many FDNY firefighters took part in the 2011 Blue Sky Girls event at the Tweed Courthouse.
If you walk past the Tweed Courthouse in lower Manhattan on Oct. 13, you will see little angels climbing up the stairs – with the help of some of New York's Bravest.
Dozens of young girls with Rett syndrome, their families and FDNY firefighters will take part in New York City's Blue Sky Girls event to increase awareness for the disease.
"The Fire Department is like an extension of my family and I'm overwhelmed by the support," said Firefighter Kenneth Lynch, whose daughter, Nora, 8, has Rett. "This is what I love most about the Department, the sense of community, togetherness and brotherhood."
Rett syndrome is a disorder of the nervous system that leads to developmental reversals, especially in the areas of language and hand use. Since it is on the X chromosome, it affects only girls.
During the Blue Sky Girls event, children with the disorder will climb, or be helped by FDNY firefighters and family members, to the top of the Tweed Courthouse's staircase. The symbolic gesture aims to inspire girls with the neurological disorder to keep going in life.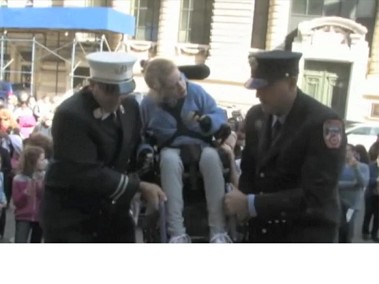 Two FDNY firefighters help carry a girl up the steps of the Tweed Courthouse during the Blue Sky Girls 2011 event.
"Last year the parents and kids really seemed overwhelmed that a firefighter would take time to come and do this for them," Firefighter Lynch said. "You could see it in their eyes."
The annual Blue Sky Girls events are held simultaneously in more than 50 locations around the world.
The New York City event was started in 2011 by neurologist Dr. Sasha Djukic from Montefiore Medical Center, whose idea it was to invite firefighters to help.
"She said, 'The children are brave and strong in their fight against [Rett syndrome], so what better representatives for the disease than the FDNY,'" Firefighter Lynch said.
Many from Engine 79 and Ladder 37 (Firefighter Lynch's firehouse) came last year, along with Engine 94 and Ladder 48, and many others. He expects even more this year as more firefighters learn about the event.
Firefighter Lynch's family is involved, too, including his wife, Helen, a teacher to whom Dr. Djukic refers as the event's "co-chair," and their two other children, Josh, 10, and Grace, 6.
Nora Lynch was diagnosed with Rett when she was just 2½ years old. He said her development started regressing and she lost the ability to communicate. While many children who develop Rett lose their ability to walk, Firefighter Lynch said his daughter has some preserved skills. Most, though, suffer from anxiety and frustration from not being able to function as they would like.
He said he hopes the Blue Sky Girls event will increase awareness of the condition and lead to corporate donations for science and research, as the medical community believes they are close to a cure.
"It would be great to get my daughter back," Firefighter Lynch said.
He added, "By unlocking Rett, it will help a host of other disorders, like Huntington's disease, schizophrenia and autism. It will be a huge breakthrough."
The Blue Sky Girls 2012 climb will be at 11 a.m. at the Tweed Courthouse and anyone is welcome to attend. Learn more or watch a video from last year's event.