Fire Marshals Promoted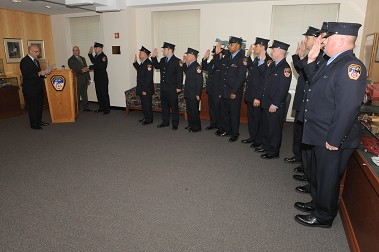 Chief Fire Marshal Robert Byrnes holds the Bible as Fire Commissioner Salvatore Cassano leads the new fire marshals in the Oath of Office.
Eleven FDNY members were promoted to the rank of fire marshal on Oct. 11 at FDNY Headquarters.
The members, including FM Sean M. O'Connor, FM Anthony Kotowicz, FM Justin C. Horigan, FM Kenneth W. Hettwer, FM Zachary H. Fletcher, FM Kieran T. Burke, FM Bruce R. Rowland Jr., FM Christopher Guglielmo, FM Brian J. Johnson, FM Brian T. Blair and FM Peter A. Lindell Jr., will now enter a rigorous training program.