FDNY Memorial Day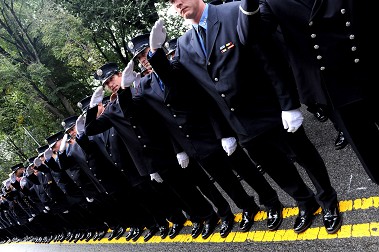 Nearly 7,000 firefighters, paramedics and EMTs attended FDNY Memorial Day in Manhattan.
Nearly 7,000 firefighters, paramedics and EMTs gathered at the Fireman's Monument on Manhattan's Upper West Side on Oct. 10 for FDNY Memorial Day. The annual event remembered 11 active FDNY members who have died in the last year, two of whom lost their lives in the line of duty.
"I have witnessed first hand the FDNY's commitment to keeping New York safe," said Deputy Mayor for Operations Cas Holloway. "Thank you for your service and commitment unwavering, from a thankful city."
The Department remembered the two men who died in the line of duty, Lt. Joseph DiBernardo, Special Operations Command, and Lt. Richard Nappi, E-237. Active duty members who died in the last year also were remembered, including, FF Chad Lundwall, L-142; FF David Wagner, E-3; FF Christopher Whelehan, L-111; FF Michael Schroeter, E-97; Lt. Vincent Barone, E-55; Lt. Patrick Sullivan, L-58; Lt. Vito Berretta, E-282; Paramedic Leonard Joyner, Station 7; FF Lawrence Sullivan, R-5.
"Today, we remember with pride – and with sadness – all those who are no longer with us," Fire Commissioner Salvatore Cassano said. "There's no telling the amount of incredible work they would have done, and the number of lives they would have impacted."
After the ceremony, which honored the families of those lost, all FDNY members in attendance marched up Riverside Drive as a mark of respect. The march lasted more than 15 minutes.
"Every member we honor today brought something extra to the firehouse or EMS station and left their mark in the Department," Chief of Department Edward Kilduff said. "They were good citizens, good friends and good family members who enriched their communities and made a difference in the FDNY."