FDNY Paramedics and EMTs Graduate from the Academy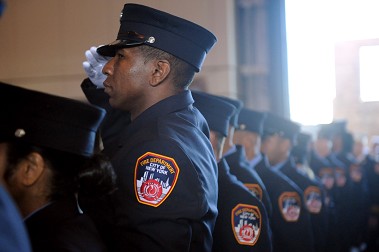 One hundred and forty two paramedics and EMTs graduated.
Cheers rang out at the Fire Academy on Oct. 1, as 142 paramedics and EMTs graduated from their rigorous training programs.
"Today's a day to reflect on the hard work and sacrifice it took to get here," Fire Commissioner Salvatore Cassano said. "All of you will make an impact on others' lives and the community you serve."
The class valedictorians included Paramedic Kellene Mullin, Paramedic Jesse Lipton, EMT Amanda Isenberg and EMT Nigel Ramsook.
"You all bring a high level of professionalism to the FDNY," Chief of Department Edward Kilduff said.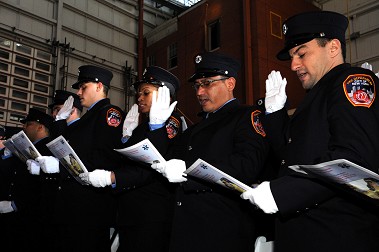 New paramedics and EMTs take the Oath of Geneva.
Among the 61 paramedics and 81 EMTs, were five military veterans, including Paramedic Steven Hornbrook (Air Force), Paramedic Kenneth Lebow (Navy), Paramedic Corey Tillery (Army), EMT Matthew Fiorito (Navy), EMT Lauchlin MacNeil (Army) and EMT John Mcgoldrick (Coast Guard).
Sixteen different languages are spoken by this diverse group of graduates, including Albanian, Cantonese, Creole, Farsi, French, German, Hebrew, Italian, Korean, Mandarin, Portuguese, Russian and Spanish.
Chief of EMS Abdo Nahmod added, "You now are part of an organization that values courage, displays compassion and has honor."