[Share]
Published: September 25, 2012
Scott Donates to FDNY Charities in Memory of a Colleague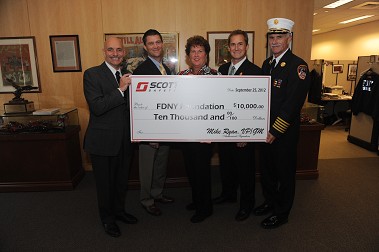 The check presentation to the FDNY Foundation. (L to R) Fire Commissioner Salvatore Cassano, Scott Safety's Vice President of Americas Sales Trent Smith, Executive Director of the FDNY Foundation Jean O'Shea, Fire Services Marketing Manager Jeff Emery, Chief of Department Edward Kilduff.
Representatives from Scott Safety visited FDNY Headquarters on Sept. 25 to donate two checks, totaling $15,000, in honor of the late Rick Hofmeister, a National Service Manager for Scott.
The FDNY Foundation received $10,000 from the organization and the New York Firefighters Burn Center Foundation received $5,000.
Mr. Hofmeister, who was a generous supporter of the FDNY, passed away earlier in 2012.