[Share]
Published: September 21, 2012
Lost Children Saved by Staten Island Firefighter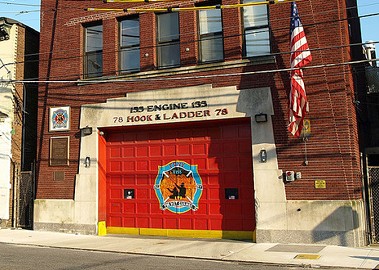 The quarters of Engine 155 and Ladder 78, near where the children were found.
Firefighter Douglas Dicks from Ladder 78 was a hero to two Staten Island children on Sept. 21, when he noticed they were walking down the street without an adult and stopped them before they walked into traffic.
At around 10:45 a.m. Ladder 78 was returning to the firehouse after responding to a call. Firefighter Dicks was sitting on the rig when he noticed a girl who was about 3-years-old and a boy who was around 2-years-old coming around the corner of Jersey Street and Brighton Avenue.
"I kept waiting for an adult to show up, but no one showed," said the 14-year veteran of the FDNY.
The girl, who was holding the boy's hand, started looking for oncoming cars and about to step out into the street when the firefighter ran to step in front and stop them.
He looked around to see if a parent or guardian would rush in, then tried talking to the children, but the boy did not speak and the girl was frightened to talk to a stranger. The girl was carrying a backpack, so Firefighter Dicks looked through it to see if he could find an address or name listed – but only clothes and diapers were inside.
As neighbors passed, the firefighter asked them if they recognized the children, but nobody did, so he decided to take them back to the firehouse and called for police and EMS to respond.
The children grew more scared inside, so firefighters turned on cartoons and showed them the fish tank in the firehouse kitchen.
In a short time, the boy fell asleep in the arms of another firefighter and the girl grew more comfortable.
As police and EMS arrived, someone nearby saw all the commotion at the firehouse and was able to identify the children.
And EMTs evaluated them and found them to be in good health, but transported them to Richmond University Medical Center as a precaution.
Firefighter Dicks said throughout the entire ordeal, he was thinking of his own children who are about the same age (a girl who is almost 5-years-old and an 18-month old boy).
"I'm just glad I was able to help," he said. "As a parent, I would hope someone would do the same for my kids, if the need arose."