[Share]
Published: September 19, 2012
Firefighter Thomas Brick Scholarships Presented to Firefighters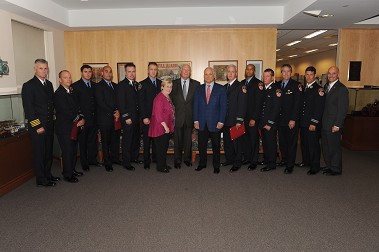 Fire Commissioner Salvatore Cassano, Salvatore Bommarito and the Brick family with the 2012 scholarship winners.
Ten FF Thomas Brick Scholarships were presented to FDNY members for the ninth year on Sept. 19, at FDNY Headquarters.
The scholarships are named in honor of Firefighter Thomas Brick from Ladder 36, who made the Supreme Sacrifice on Dec. 16, 2003, while operating at a four-alarm fire in upper Manhattan.
They are generously funded each year by Salvatore Bommarito and his family, in appreciation for the courageous public service provided by all FDNY firefighters. Since the program started in 2004, they have funded 61 scholarships totaling approximately $200,000.
This year's scholarship recipients included Captain William Carroll, Engine 47; Captain William Connolly, Engine 48; Captain Martin Currid, Division 6; Captain Michael Grace, Division 14; Captain Brian Whiston, Division 3; Firefighter Andrew Antoni, Ladder 36; Firefighter Jason Brezler, Squad 252; Firefighter James Dowdell, Ladder 174; Firefighter Niambi Dukette, Engine 47; and Firefighter William Owens, Rescue 1.