[Share]
Published: September 17, 2012
FDNY Fire Marshals Arrest Serial Arsonist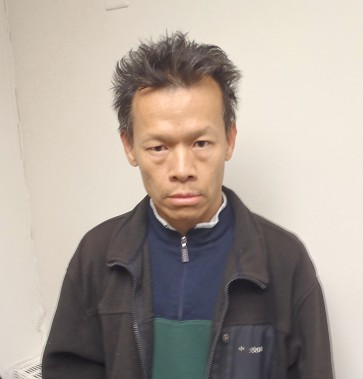 Serial arsonist Thien K. Dinh
FDNY fire marshals arrested Thien K. Dinh, 43, of the Bronx, for setting 13 fires in Queens from Aug. 20, 2012, to Sept. 13, 2012.
One of the fires he started was at 143-01 45 Ave. on Aug. 20, which escalated to a third alarm and injured 19 firefighters.
After a thorough investigation, fire marshals apprehended Mr. Dinh. In each instance, Mr. Dinh lit rubbish and other combustible material to start the fires. He is charged with multiple counts of arson, reckless endangerment and burglary. Mr. Dinh has 45 prior arrests for crimes including burglary, property damage and criminal mischief.
Please note, Mr. Dinh is presumed innocent until proven guilty in a court of law.
A map of the locations where Mr. Dinh started fires in Queens
Fire marshals determined Mr. Dinh started fires at the following locations:
41-77 Kissena Blvd. – Mon., Aug. 20, 12:20 a.m. – rubbish fire
42-65 Kissena Blvd. – Mon., Aug. 20, 12:58 a.m. – rubbish fire
41-25 Kissena Blvd – Mon., Aug. 20, 1:16 a.m. – dumpster fire
143-01 45 Ave. – Mon., Aug. 20, 2:55 a.m. – third alarm fire in residential/commercial building
147-46 38 Ave. – Mon., Aug. 27, 2:10 a.m. – rubbish fire
45 Ave and Kissena Blvd. – Tues., Aug. 28, 3:42 a.m. – rubbish fire
147-30 38 Ave. – Mon., Sept. 3, 2:30 a.m. – rubbish/car fire
133-57 41 Rd. – Mon., Sept. 3, 3:11 a.m. – dumpster fire
42-42 Colden St. – Fri., Sept. 7, 2:31 a.m. – rubbish/car fire
137-05 Franklin Ave. – Fri., Sept. 7, 2:40 a.m. – rubbish fire
43-55 Kissena Blvd. – Fri., Sept. 7, 2:48 a.m. – rubbish fire
42-43 147 St. – Mon., Sept. 10, 3:31 a.m. – rubbish/car fire
144-45 41 Ave. – Thurs., Sept. 13, 3:10 a.m. – rubbish/car fire