Four FDNY Chiefs Promoted, Including Chief of Operations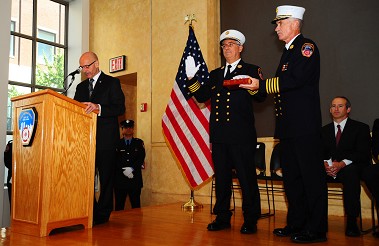 Commissioner Salvatore Cassano and Chief Edward Kilduff swear in new FDNY Chief of Operations, James Esposito.
Four FDNY staff chiefs were promoted in a ceremony at FDNY Headquarters on Aug. 30, including Chief James Esposito to the rank of Chief of Operations.
He replaces Chief of Operations Robert Sweeney, who is retiring from the FDNY to become Commissioner of the Yonkers Fire Department.
"[Chief Esposito] has worked everywhere in this city, spending time in all five boroughs, and always leaving each place in better shape than when he entered it," Fire Commissioner Salvatore Cassano. "I first met Jim more than 30 years … He was a great firefighter then, and he's still one today."
Chief Esposito is a 38-year veteran of the FDNY and has served as Manhattan Borough Commander since December 2009.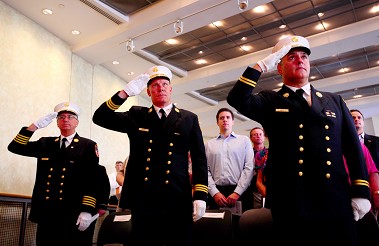 New FDNY Chiefs: From left, Chief of Operations James Esposito, Manhattan Borough Commander John Sudnik, and Deputy Assistant Chief James Daly
Also promoted in the ceremony was Chief John Sudnik to Assistant Chief and Manhattan Borough Commander; Assistant Chief Robert Maynes to Queens Borough Commander; and Deputy Chief James Daly to Chief of Planning and Strategy.