FDNY EMS Members Save Woman Having Heart Attack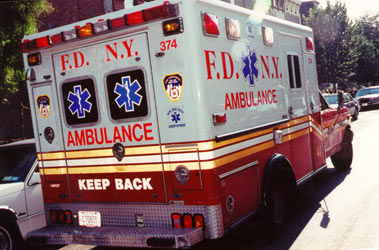 FDNY EMS members in Queens did everything perfectly on Aug. 13, to save the life of a woman having a heart attack.
"Wish there was more outcomes like this," said EMS Lt. Ileana Adrat. "I haven't stopped grinning from ear to ear since it happened."
A 911 call was received at around 7:30 p.m. for someone who collapsed at the Rockaway Fitness Center on Beach Channel Drive, in the spinning room.
EMS members, including Paramedics Craig Roeder and Jason Verspoor, and EMTs Brian Hayden and Christopher Orlik arrived on the scene in two minutes, along with the members of Engine 268.
They found the 51-year-old female in cardiac arrest. The EMS members immediately intubated her as firefighters did CPR. EMS then coordinated for her to go to a hospital that treats ST-segment elevation myocardial infarction (STEMI) heart attack patients after looking at her EKG.
They moved her to the ambulance and worked with NYPD to clear streets to transport her to Jamaica Hospital quickly.
By the time they arrived, Lt. Adrat said the victim was responding to stimuli, like squeezing their hands when they said her name. The hospital later told them they were able to stabilize her and she was doing well.
Lt. Adrat said this was the fourth cardiac arrest patient she helped treat that day.
"It was a good job, everyone – the EMS crews, firefighter and police – pulled together," she said. "I'm grateful to everyone."