FDNY EMS Members Save Three People in Submerged Car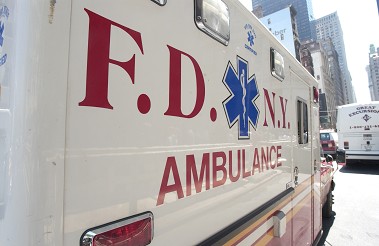 FDNY EMTs Marilyn Arroyo and Jimmy Guailacela from Station 46 risked their lives to save three elderly people trapped in a submerged vehicle on Cooper Avenue in Queens on Aug. 15.
A call was received at around 1:30 p.m. for people trapped in a car beneath an overpass.
When EMTs arrived, they said they saw three people – an elderly man and two elderly women – who could not exit the vehicle. The car was three-quarters full of rainwater and was continuing to fill with water flowing in like a river from the heavy rain.
"It was up to their chest and they were yelling, 'Help us, help us,'" EMT Arroyo said. "We really just didn't think at all. I just wanted to get there get them out."
As they got closer, the water was so deep they had to swim to reach the vehicle. This proved challenging for EMT Arroyo, she said, because she cannot swim.
One of the car doors was open, so EMT Guailacela swam there first to help the patient. EMT Arroyo grabbed onto a nearby fence at a construction area and used it to help swing her to the top of the car and help the male patient, who had his head out the sunroof.
The third passenger was sitting in the back of the car with water up to her neck, so EMT Guailacela helped swim her to safety. They then helped the man, who said he had a heart condition, and finally the third victim. As she was removed, the car was completely submerged.
EMT Arroyo then tried to move back to the fence, but her belt was caught on the car's windshield wipers, which were still moving. She removed her belt quickly and made it to safety.
Hours later, she said she was still in shock by what happened.
By the time EMS Lt. Mary Merced arrived at the scene, just minutes after the call was first received, she said, "You couldn't see the vehicle at all, I couldn't even tell you what color it was."
She added that the patients were truly grateful for the EMTs heroism.
"They just kept saying, 'The water was up to my neck, they saved my life.'"