FDNY Unveils Official 2013 Calendar of Heroes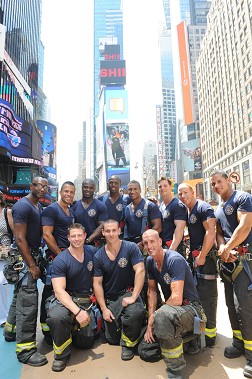 FDNY 2013 Calendar firefighters in Times Square. (L to R, back row) FF Jovis DePognon, FF Jose Cordero, FF Roger Thompson, FF Darius Dorsett, FF Jacques Terlonge, FF Kenneth Sleap, FF James Gunning and FF Jack Medina. (L to R, front row) FF Vincent Ruddy, FF Jeffrey Silverman and FF Rob Derrig.
Published: August 13, 2012
The FDNY unveiled the 2013 Calendar of Heroes on Aug. 13, with a signing in Times Square.
Hundreds turned up to meet and take photos with the firefighters.
This is the only official FDNY calendar, and all proceeds benefit the FDNY Foundation.
You can purchase a calendar at the FDNY Fire Zone.