Firefighters Help Woman Impaled on Fence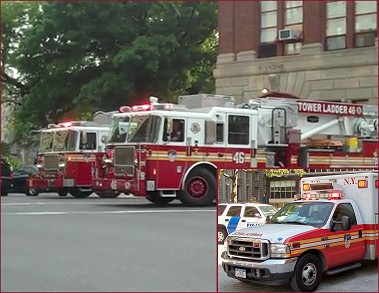 Firefighters Help Woman Impaled on Fence
Published: August 08, 2012
Firefighters from Engine 81 and Ladder 46 in the Bronx came to the aid of a woman with some bad luck on Aug. 7. She was trying to catch a tossed cell phone, lost her balance, fell backward and was impaled on the spike of a 2-foot wrought iron fence.
"Everyone there did a great job," said Lt. Tim Sullivan from Ladder 46. "We were happy we were able to help her."
Firefighters, including Lt. Harry McMaster and Firefighters Patrick O'Hanlon, Matthew Henderson, Thean Traynor and John Viragh from Engine 81 and Lt. Sullivan, and Firefighters Robert Clinton, Mark Connolly, Vincent Damato, Lawrence Landon and Simon Porteus from Ladder 46 responded to the incident on Strong Street at 4 p.m.
When they arrived, the saw the 6-inch spike of the fence about 4 inches into the middle of the victim's right calf and her left leg pinched between two other spikes.
They knew they would leave the spike in her leg and cut the fence around it, to control bleeding and prevent further damage.
They first took trauma dressings and wrapped her leg and the fence together. They then used several tools, including cutters and saws, to cut away the fence, making sure to hold the fence and her leg to avoid any further harm caused by the movement of the tools.
She was not bleeding much, so "we were careful about every move and took our time," Lt. Sullivan said.
They removed approximately a 2-foot by 2-foot section of the fence and anchored it to her leg.
"We wanted to make it manageable in the ambulance but not cut it close enough to risk hurting her further," Lt. Sullivan said. "She was in pain, but she let us do our job; she was great about it."
They then helped FDNY EMS members, including Lt. Brian Murphy, Paramedics Robert Goodwin and Chris Jacobs, and EMTs Marco Gonzalez and Jonathan Kleisner, safely transport her to the ambulance and then the hospital.
"This sort of thing seems ordinary for [FDNY members], but it's a good feeling to know we could help someone," Firefighter Porteus said. "It was a team effort."