FDNY Members Support Hope for the Warriors
The Rumble to the Rockies riders leave the World Trade Center site on the first leg of their two week journey.
Published: July 30, 2012
Firefighters from Battalion 14 in the Bronx took to the streets on July 30 to start a 5,000 mile journey to raise awareness and funds for Hope for the Warriors.
The charity works to enhance the quality of life for post-9/11 service members, their families, and families of the fallen who have sustained physical and psychological wounds in the line of duty.
The "Rumble to the Rockies" riders include FDNY firefighters from the South Bronx who responded to the World Trade Center on Sept. 11 and who are Iraq and Afghanistan war veterans.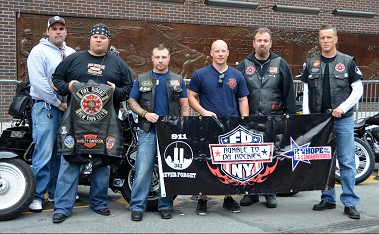 Members of the Rumble to the Rockies riders. (L to R) FF John Finnerty, L-29; FF Jason Puser, L-29; FF Matt Sabini, E-71; FF Mike Vincitore, E-71; FF Kevin McEntyre, HM-1 (retired); and FF Chris Walsh, B-14.
Their trip started at the World Trade Center, just outside the quarters of Engine 10/Ladder 10. The team will stop in 15 locations – including many fire departments – along the way, including Shanksville, Penn.; Cleveland; Denver; and Oklahoma City. The two-week ride will end at the Walter Reed Medical Facility in Bethesda, Md.
Each participant pledged $2,000 at the start of the trip and hopes to collect more donations along the way, with all the money benefitting Hope for the Warriors.
For more information, visit their website.