FDNY Joins Deaf and Hearing Impaired Community Leaders to Discuss Fire Safety Education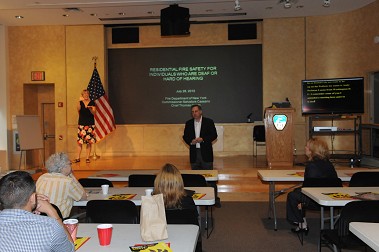 Andrew Perlman from the Inclusive Preparedness Center led the discussion at FDNY Headquarters.
Published: July 26, 2012
The FDNY hosted representatives from the deaf and hearing impaired community at FDNY Headquarters on July 26 to discuss fire safety education.
The group, which included many of the FDNY's fire safety educators, discussed new ways to engage and teach fire safety to individuals who are deaf and hearing impaired.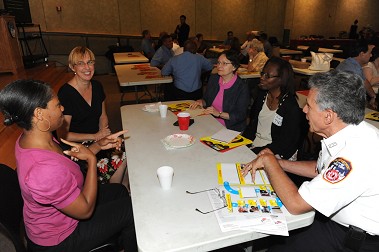 Lt. Anthony Mancuso, the FDNY's Fire Safety Education Director, takes part in one of the discussion groups during the session with members of the deaf and hearing impaired community.
"We know the vital importance of fire safety education," Fire Commissioner Salvatore Cassano said, noting that it is a major reason the city has seen a significant drop in fire deaths over the last few decades.
"Let's put our heads and our hearts together and make a difference."