FDNY Members Support Wounded Warriors Soldier Ride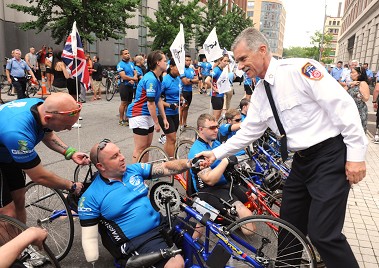 FDNY Chief of Department Edward Kilduff meets a few of the Wounded Warriors.
Published: July 19, 2012
Close to 100 FDNY cyclists joined the Wounded Warriors in the annual Soldier Ride through New York City on July 19.
The four-day cycling event is a way for members of the Wounded Warriors Project to support returning soldiers, encouraging them to use cycling to overcome wounds.
The group started in Midtown Manhattan and stopped at the 9/11 Memorial, laying a wreath at 7 World Trade Center, before crossing the Brooklyn Bridge. They then stopped at FDNY Headquarters in Brooklyn to lay a wreath at the World Trade Center memorial there, before making their way to a block party held in their honor.
Along the entire route they were greeted by FDNY members on fire apparatus, ambulances and fireboats.
"Were here to honor you and the sacrifices all our soldiers have made since 9/11," Chief of Department Edward Kilduff said. "We are truly honored. Nobody inspires us more."