Plaque Dedication for Aide Who Died from WTC Illnesses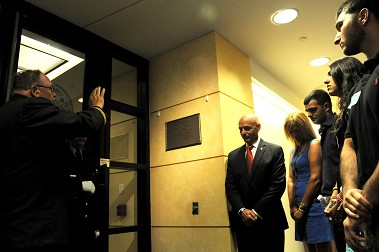 FDNY Chaplain Monsignor John Delendick blesses FM Steve Mosiello's plaque at FDNY Headquarters beside Fire Commissioner Salvatore Cassano and the Mosiello family.
Published: July 16, 2012
The staff at FDNY Headquarters paused on July 16 to pay tribute to a hero, Fire Marshal Steven Mosiello, the Chief of Department's aide who died after battling illness brought on by the effects of World Trade Center.
A plaque was dedicated in his honor on the 8th floor of FDNY Headquarters one year after his tragic death.
"Steve set an example for all of us," Fire Commissioner Salvatore Cassano said during the ceremony at FDNY Headquarters. "He was organized and hard-working, he was an asset."
FM Mosiello was a loyal aide to Chief of Department Peter Ganci and drove him to the World Trade Center on Sept. 11, 2001, where the Chief was killed. He then served Chief of Department Daniel Nigro, visiting the Trade Center site on a daily basis, before retiring in September 2002.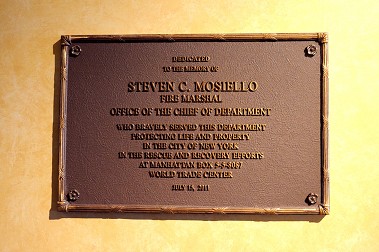 FM Steven Mosiello's plaque.
Chief Ganci's family attended the ceremony to offer support to the Mosiello family, including his wife, Ginger, daughters, Alexandra and Nicole, sons, Ryan and Steven and brothers, Michael and John.
"If you're lucky enough in life, you meet people who enrich your life and make it better, Steve made things better," retired Chief of Department Nigro said. "His memory, his deeds, what he meant to all of us – just like all those we lost because of 9/11 – will last forever."
His plaque sits just feet from where he worked in the Chief of Department's office.
"Now, when people come here, they will know the sacrifice Steve made," Chief of Department Edward Kilduff said, after describing the Fire Marshal doing a tremendous amount of work out the window of the chief's car. "He was an advisor, a straight shooter and a friend. This brings everything full circle for us."