FDNY Fire Prevention Members Oversee Macy's 4th of July Fireworks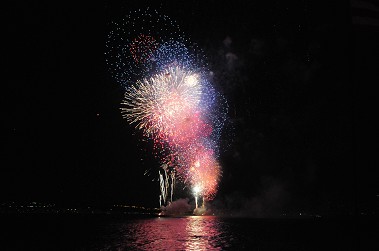 Fireworks above the Hudson River during the 2012 Macy's 4th of July Fireworks Spectacular.
Published: July 05, 2012
While thousands of New Yorkers gathered along the Hudson River to watch the Macy's 4th of July Fireworks Spectacular with their friends and family, there were hundreds of others – including members of the FDNY Blasting Unit – who were hard at work, making sure the show was beautiful and safe.
Starting in late June, FDNY members work closely with the pyrotechnic experts to plan, transport and set up the shells that were used in the 2012 show, and make sure everyone working the show had proper certifications.
On the holiday, the members of the Blasting Unit manned all four of the barges, making sure that everything remained safe, and were supported by volunteers from Macy's.
Tugboat operators from around the area moved the barges into position and carefully kept them in place throughout the show. They worked with the pyrotechnic experts to be mindful of the wind patterns (since it was blowing towards Manhattan, they moved 2,000 feet from the riverside, instead of their usual 1,000 feet, to protect the viewers), kept the barges an equal and safe distance apart, and monitored radios and computers to ensure the barges do not drift and do not come close to other vessels.
Just before the show began, a radio transmission synced computers on each of the barges.
The experts have numerous safety measures in place that make it impossible for anyone to accidentally set off fireworks before the show and make it easy for them to stop the show if something were to go wrong.
The computers were wired to more than 60 modules on each barge, which set off the four to 10 inch mortars that were set in metal grids, making sure they launched straight up. The width of the mortar determined how high each firework would appear.
After the show finished, there was a brief cool-down period before members of the Blasting Unit surveyed the barges to ensure there were no fires and secure any un-exploded shells.
Although there was a lot of work involved for a show that lasted less than 30 minutes, everyone involved said they had fun.