FDNY Partners with NIST and UL for Fire Science Research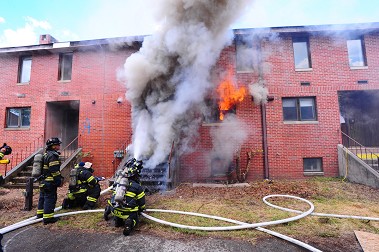 Firefighters battle a cellar fire on Governors Island, to help the FDNY, NIST and UL learn more about the science behind today's fires
Published: July 03, 2012
FDNY members joined researchers from the National Institute of Standards and Technology (NIST) and Underwriters Laboratories (UL) on Governors Island for six days starting July 2, for a series of tests to learn more about the science behind fires.
"We're hoping to gain a small advantage on how we fight fires, which will, with hope, protect the safety of our firefighters and the public," Fire Commissioner Salvatore Cassano said.
Researchers set up three tests per day for six days to learn more about the changing science behind fires today.
"We're not doing research for the Fire Department; we're doing research with the Fire Department," NIST Fire Protection Engineer Daniel Madrzykowski said.
One such test conducted on July 3 tested everything from ventilation tactics to suppression when after they started a fire in a townhouse cellar. As the fire was burning, fire officers and researchers stood in an adjacent row house to monitor what was happening and look at initial data.
Although it will take time for the final research to be released, those involved said they already were learning interesting and useful information.
"We're addressing challenges firefighters face every day," UL Engineer John Drengenberg said. "We're bringing science to the street."