83 Graduate from EMS Academy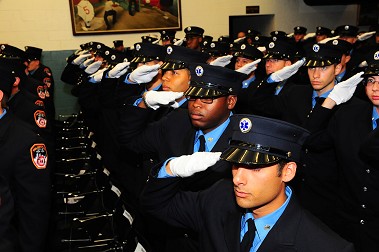 The new EMS graduates.
Published: July 02, 2012
A large crowd of family and friends cheered as 83 new EMTs were sworn in during a graduation ceremony at the Fire Academy on Randall's Island on July 2.
"Today is a day to reflect on the hard work, determination and sacrifice you have all demonstrated to get to where you are today," Fire Commissioner Salvatore Cassano said.
Chief of Department Edward Kilduff added, "You are now part of the greatest EMS system in the world, a system that's all based on teamwork."
The class valedictorians were EMTs Louanne Mueller and Adam Narkier.
Two of the graduates are members of the U.S. Military, EMTs Johnathan Ramos served with the Army and Jennifer Brady with the National Guard.
"Welcome to EMS, I wish you all well in your new careers," Chief of EMS Abdo Nahmod said.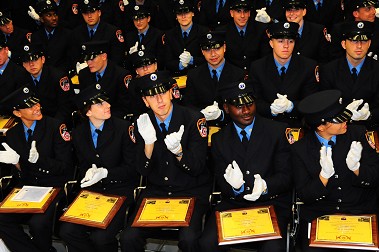 The 83 new graduates will be assigned to units throughtout the five boroughs.
Sixteen of the graduates have family on the job, including EMT Matthew McNally. His brother, EMT Michael McNally is assigned to Station 20, and their father, EMS Captain Kevin Haugh, is commanding officer of EMS Station 55.
After the ceremony, EMT Jacqueline Benel said her first call was for a cardiac arrest victim.
"I'm just really excited to get started," she said.