EMTs from Station 43 Earn Unit of the Month Honors, One with Just Three Months on the Job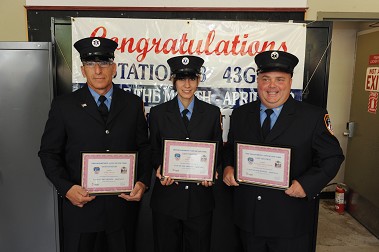 The EMS Unit of the Month recipients (L to R) EMTs John Cuccio, Jillian Cox and Michael McCormack.
Published: June 25, 2012
Three EMS members from Station 43 in Coney Island, Brooklyn – including one with less than three months on the job – received Unit of the Month honors on June 25.

"You all do a lot of work and it doesn't go unnoticed," Chief of EMS Abdo Nahmod said.

EMTs Michael McCormack, John Cuccio and Jillian Cox were lauded for their hard work and diligence in April, when they responded to an amazing 173 calls. EMT Cox just graduated from the FDNY's EMS Academy on Apr. 3.

"This is a high honor," said Capt. Wayne Baskin of Station 43, the third largest EMS Station in New York City. "And they were recognized for their outstanding performance."

EMT Cox described receiving the award just out of the Academy as "really amazing." She previously had worked in office jobs and said she loves her new role.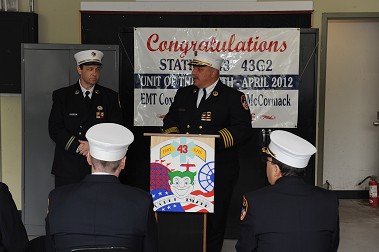 Chief of EMS Abdo Nahmod speaks to the crowd, praising the EMTs' great work.
She is currently training with EMTs McCormack and Cuccio, who have 11 and eight years of experience respectively, and describes them as "the best people ever. They have great work experience, patient care and kindness."

Her mentors returned the compliment, describing her as "one of the best rookies ever."

Both separately adding, "It's nice to be recognized like this."