66 Graduate from FDNY High School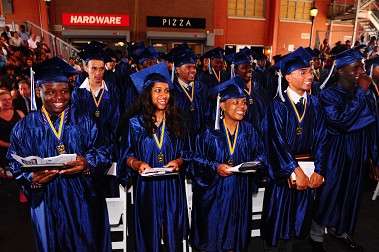 The FDNY High School class of 2012
Published: June 22, 2012
Students at the FDNY High School for Fire and Life Safety started a new chapter on June 22, as they became the fifth class to graduate from the Brooklyn school.
"This is a special day for all of us," Fire Commissioner Salvatore Cassano said. "Your individual success that we celebrate this morning comes as a product of not only your determination, but also the dedication of your teachers, and the love from your family and friends."
Principal James Anderson praised the 66 students for their hard work and determination.
"Each of you has a purpose and distinct skills," he said. "You have a destiny and you are all meant for greatness. I don't hope for that, I expect it."
The school is part of the City's small schools initiative. Housed in Thomas Jefferson High School in East New York, the school provides a rigorous academic program with a special emphasis on the academic, physical and moral rigors of emergency response.
The class Valedictorian was Dorian Mercer, who praised the school's staff and said of his classmates, "We are family united by our education and our dreams."
Christopher Parente, the class Salutatorian, also thanked the teachers, adding, "Let us always remember the four great years we had here at the FDNY High School."