The FDNY Urges New Yorkers to Stay Safe in the Summer Heat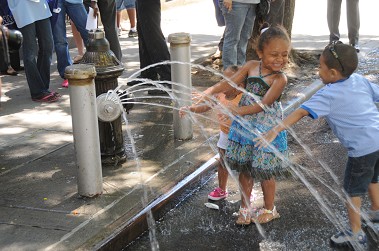 Spray caps used on a fire hydrant
As temperatures rise in New York City starting June 20, the FDNY reminds everyone to take extra steps to stay safe.
Be sure to hydrate and wear lightweight, light-colored clothing. Spend more time in air conditioned areas (the City has many cooling centers open if you do not have air conditioning at home) and reduce your strenuous activities.
Take extra care of children and the elderly, who are most susceptible to the dangers of high temperatures.
And remember, open fire hydrants significantly reduce local water pressure, potentially impairing firefighting operations, and serious injuries can be caused by the water pressure. Instead, the FDNY urges New Yorkers to obtain spray caps, which are available to be checked out for free by an adult 18-years or over at local firehouses.