U.S. Army Soldiers Returning from Deployment Visit Firehouses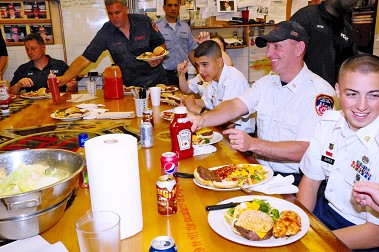 Members of the U.S. Army visit Engine 298/Ladder 127 in Queens.
Four FDNY firehouses hosted 35 heroes on June 12 and 13, as members of the U.S. Army, who recently returned from deployment in Afghanistan, stopped by for lunch.
The visits were part of the celebration surrounding the Army's 237 birthday on June 14.
"[Both the FDNY and service members] serve the nation in different ways," said Major Brooke Brown. "We have a similar desire to help others."
Four groups, all from Ft. Drum in Watertown, N.Y., visited Engine 326/Ladder 160/Battalion 53 in Queens, Engine 298/Ladder 127/Battalion 50 in Queens, Engine 289/Ladder 138 in Queens and Engine 245/Ladder 161/Battalion 43 in Brooklyn.
The soldiers returned home in March after being deployed for a year in Afghanistan with the 3-71 Cavalry Squadron.
"We share similar experiences," Army Capt. Juan Ramos said of the soldiers and the firefighters. "We are protecting people."
Members of all four firehouses were happy to welcome the soldiers.
"This is a big honor for us," said Fire Capt. Craig Silvino, Ladder 127. "We just look at these men and women in awe - they're protecting us and our freedom."