FDNY Members Meet Woman They Saved
Rosa Thomas meets her rescuers. (L to R) EMT Yasel Ferrer, EMT Malido Vasquez, Paramedic Paul Wallace, Paramedic Kevin Bratholt and EMS Lt. Gilberto Aviles.
FDNY EMS members and firefighters in the Bronx got a special visit from Rosa Thomas on June 13. The woman, who they saved after she went into cardiac arrest on March 21, walked into EMS Station 14 with her family and friends to say thank you.

"They are heroes, my heroes," Ms. Thomas said. "I love them all."

In March, at around 5 p.m., Ms. Thomas went to her neighbor's apartment on Trinity Avenue when she started having severe symptoms of an asthma attack. Her neighbor tried to help and called 9-1-1, but Ms. Thomas stopped breathing, collapsed and started turning cold.

Moments later, EMS units arrived. Paramedics Kevin Bratholt and Paul Wallace described the scene as chaotic, and immediately began clearing an area to work.

They did CPR, advanced airway intubation, ventilated the woman and began hypothermia treatment with an IV of cold fluids.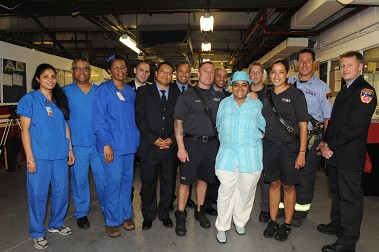 Rosa Thomas with the EMS members, firefighters and medical professionals from Lincoln Hospital who saved her after she went into cardiac arrest in March.
"It was the same thing anyone else would do," Paramedic Bratholt said. "We were just in the right place at the right time."

Lt. Gilberto Aviles, EMTs Yasel Ferrer and Melido Vasquez and the members of Engine 83 (including Lt. Joseph Reznick and Firefighters Richard Degon, Robert Mallon Sarina Olmo and Christopher Kennedy) who helped treat, package and transport the woman, echoed the sentiment. Lt. Aviles added:

"They all did a great job. It's nice and rewarding for [the responding members] to see their job effect someone's life in such a positive way."

The members visited Ms. Thomas in the hospital several times. She said she was in a coma for three days.

"This is what we do every day," Lt. Reznick said. When asked how it felt to have her stop by to say thank you, he added, "It's amazing to see her here today. There are no words."